04

02

TERMINATE UNDER ARTICLE 53 OR FACE PERJURY CHARGES UNDER ARTICLE 70 OF THE SAME STATUTE THAT WAS VIOLATED BY OTP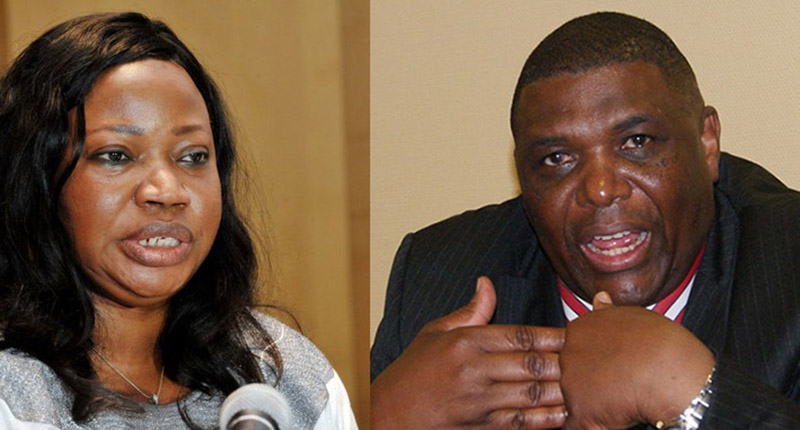 EMBARGOED WORLD WIDE:
4TH FEBRUARY 2014  12HRS GMT.
Africa world Media together with all her sister organizations that have been at the forefront in exposing the flawed and bungled Kenyan cases wishes to make the following statement regarding the ICC status conference on Uhuru Kenyatta:
1.   The ICC chief Prosecutor has reached a pinnacle of insanity on the Kenyan cases which were bungled and flawed by the same OTP right from the start. It is very disheartening for the Chief Prosecutor to tell the world that after spending over  200 million dollars of international taxi payer's money  on flawed investigations and procured witnesses she still wants 3   more months to squander time and money looking for new Mungiki outlawed liars and fake witnesses to present to the same trial court of ICC.
2.   It is equally annoying, reckless, prudish, sardonic, repugnant and morally bankrupt for the ICC Chief Prosecutor to bring sideshows in serious case of President Uhuru Kenyatta which was fabricated and joined in carpenter's shop in River Road in Nairobi that has destroyed the lives of both suspects and victims of 2007-2008 PEV. Some of us who have followed the insides of OTP know very well that it was her who designed, pieced, and framed President Uhuru Kenyatta when she was the Deputy Chief Prosecutor of ICC.
3.   It is shocking that after 3 years  in Office as the Chief Prosecutor Fatou Bensouda has follow the same footprints or footsteps  of Luis Moreno Ocampo without correcting the wrongs that her predecessor  did as the then Chief Prosecutor of ICC.  Fatou Bensouda knows the consequences of violating Article 70 of the Rome Statute when one commits perjury , perversion of course of Justice and obstruction of justice which were done by her OTP under her stewardship as the Chief Prosecutor.
4.   When did she know that the cases had no evidence was it when she took over or after she settled in office? Why did she lie to the court that Mungiki were credible witnesses yet she knew they were a bunch or liars out to make money? Did she know that they were outlawed as a terrorist group in the world?  And many other questions that linger in people's minds whenever you discuss Kenyan cases.
5.   The entire world must know that there are 2  applications filed by me that are pending before the Appeal Chamber 5  for the same crimes her office(OTP) committed during and after investigations of both Kenyan cases. These two applications are the roadblock to Fatou Bensouda's cases. It is not the Kenya Government that failed her  as she alleges or any other forces that might pretend to have an input in these cases.  The reality has sunk that Mungiki an outlawed organization which was the bank for OTP witnesses have been blocked by my applications that are before the ICC court. The reservoir has dried up. There are no more witnesses like Maina Kabutu who can lie and Fatou has failed to arrest them.
6.   The procurement of witnesses like tomatoes in the market, coaching of witnesses , faking of witnesses,  the use of intermediaries in collection of data against political opponents , the use of NGOs like USAID – KENYA  whose evidence I have filed in court are the biggest worries of Fatou Bensouda.  The case of Deputy President William Ruto and Arap Sang where ICC agents like Mr. Walter Barasa was used by ICC investigators to buy witnesses is very serious under international law.
7.   While these events are reshaping and becoming clearer and clearer that the people who are now before the ICC are not the real suspects but victims of insanity of international conspiracy theories against Africa, it has emerged that some people in Kenya and sycophants of OTP (merchants of confusion) are telling some us whose names have been tainted for speaking the truth since 2008 to go slow on ICC Chief Prosecutor. Let me sound a warning that as long as the cases of the three Kenyans are not halted and fresh investigations are conducted, some of will not rest until proper justice is got for both suspects and victims of 2007- 2008.
8.   The Government of Kenya must operationalize the Special division of the High court that deals with international crimes before this woman returns harvest more Kenyans to this OTP that has terrible record of misery    as far investigations are concerned. Those in Kenya who can listen must act now to avoid that scenario from being real. These cases will crumble on case by case basis because the merits and demerits are not the same. To avoid confusion among the people of Kenya the government must as matter of priority show some positive strategy of redemption by preventing any future Ocampos landing by night to take more Kenyans to The Hague on fake evidence.
9.   As we eagerly wait for the outcome of the cases it is important for me to note and tell the world that I don't hate the ICC but
I hate and loathe the OTP
which did shoddy investigations which is line with the AU letter that I saw in Addis Ababa. The wind of hope will only come when the President of ICC orders for Independent Panel to look into the activities of OTP in regard to Kenyan cases that were bungled. Accountability must be there. Someone must own up for the mess that was created by flawed investigations.
Thanks
Dr. David Nyekorach- Matsanga
Chairman / CEO
+447930901252 London
+254723312564 – Kenya

africastrategy@hotmail.com
dr.davidmatsanga@yahoo.com
www.africaworldmedia.com