01

12

REPLY TO MAKAU MUTUA ARTICLE OF SUNDAY 17TH NOVEMBER 2013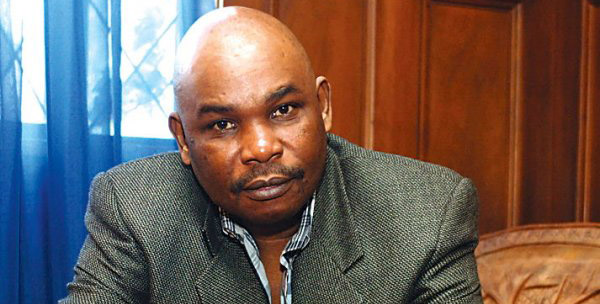 Dear Editor Sunday Standard,
This is my right of reply to Makau Mutua's article published in the Kenya Sunday Standard of 17th November 2013. My family, friends, and fans all over the world I would like to apologise for not answering Makau Mutua on 24th November 2013 as promised. This was due to my busy schedule in The Hague Netherlands where I attended the ASP of ICC where Makau Mutua's KHR were busy destroying their own country Kenya in front of neo-colonialism.
I must from the onset tell you that I don't know whether to address Makau Mutua as man or woman?  Why? Because in his rants against me, Makau Mutua has forgotten that I am happily married to a wife not to a man, I have produced eight good and educated children, I have six grandchildren all of whom live a happy life and elsewhere where they are where they resettled with their extended families.
Makau distorted many issues in the Standard Newspaper of November 17th 2013.  It is a shame that the Standard Newspaper allowed Makau Mutua to import the disease of yellow journalism from Daily Nation to a good newspaper in Africa. Since Makau has turned the standard a daily Tabloid let us go.
 I will answer one by one, soil by soil, inch by inch all distortions and concoctions that Makau Mutua was allowed to write using public space in Standard News Paper. In that article these were issues raised:
Why Matsanga is a liability to Uhuru Kenyatta and Ruto,
My academic credentials questioned.
My role in the LRA/ GOU peace process,
My defence for President Mugabe and the people of Zimbabwe,
My Pan Africanism passion and defence for Africa.

NOW LET ME EXPOSE THE CLOWN CALLED MAKAU MUTUA.  
To a man or woman with a hammer everything resembles a nail, it gets weird when the hammer holder is none other than this woman or man called Makau Mutua; a namby-pamby apologist with inflated pride, wounded ego and alpha narcissism riveted to nonpareil zeal of someone trying to "catch the eye" of a political demigod perhaps to anoint him a widget in the Kitchen cabinet of President Uhuru Kenyatta. But that is not a reason enough for this man or woman Makau to live his life in the jungles of bitterness about everything; he must be watching too much Alice in the wonderlands and boondocks. I am not anywhere near President Uhuru Kenyatta or Deputy Ruto. I am Ugandan Pan African who has little influence on Kenyan politics but a sincere , patriotic African who voluntarily defended 3 Kenyan suspects from the like of Makau Mutua.
LAW DON BUT FINESSE OF A LOW DON.
Doubtless that Makau is a law don but his conduct and finesse is of a low don, a yahoo than a 'learned friend'--correct me if I'm wrong but his article in Sunday Standard November 17, 2013 bore vestiges of a publicity thirsty village champion than an intellectual cognoscenti. The leitmotif was more on a humdrum ad hominem, malarkey, pooh-pooh and voodoo research than constructive criticism-maybe he was trying to "catch my eye" into a pig wrestling; a contest for the low self esteemed.  Makau is lost in amnesia of imperialism and I am different when it comes to defending Africa.
What whips my imagination as Matsanga, a God loving man is the creativity of the man to turn epithets and diatribe into a daily job.  It is unfathomable how such a dean, who should be busy researching on emerging issues to bequeath his audience, becomes a peddler of yellow ideas and odium every Sunday in his column against his own nation Kenya. It is sad that my friend Mr. Shollei the boss of Standard Newspaper and my friend Senator Gideon Moi (owners of Standard) allow such a foreign stooge to tarnish the names of their own friends in politics in Kenya every Sunday.
FACTS ARE NEVER FUNGIBLE
As Matsanga history is my defense for facts are never fungible; 2007 the same Makau who today is a self appointed lackey and wannabe parrot of Dr. Raila Odinga spent years penning the most vicious, feculent attacks on the same man Dr. Raila Odinga, case in point was bile he spewed on his article titled "Raila is his own worst enemy" —what changed? Did the good "woman professor Makau Mutua" undergo a transfiguration, a transplant of mind or rented his mouth? Has Makau ever asked some of his masters like Dr. Raila Odinga about their academic backgrounds?  He would be more shocked about their academic backgrounds. Instead of asking me who studied in institutions in United Kingdom that can be crosschecked in this digital era Makau should bring out his New York manufactured degrees on display because he is the one desperate for a job in Kenya not me. At 56 I have done my bit as an African and I am not struggling to become relevant or woman instead of man. I will remain a man till death.
If that aura of academic is what defines a cutting edge of thought--then we need universities of thought, thinkers of yore like Isaac Newton and Archimedes attended to produce Himalayan ideas. Appearing with me on a local TV( NTV) 4 weeks ago to discourse the issue of ICC, the man sounded jujitsu betraying any single grain of intellect in him save for some veneer American accent that made him sound like a parrot learning to speak Guajarati. He could not sustain or support his arguments which were more slanted, personal and hollow breathing life into these words of Prof.Bethwel Ogot "some intelligentsia are intellectual mitumba" (meaning dead wood).
ATTACK ON DEPUTY RUTO:
The Kenyan public and the world at large will remember the same Makau Mutua, who published an excoriating article about William Ruto in 2012, arguing that the term hustler is a etymologically a thug, was prima facie enough to show the man is mentally trapped or confirm our worst fears that he is a gun for hire from imperialists. If he can't appreciate that English is a living language that grows daily, then Makau is a serious candidate for a mental asylum and his students must be fake ones. That Makau Mutua still lives in denial that Uhuru is the President of Kenya just shows the paradoxical relationship between the gay good Prof and his shallow legal knowledge. Uhuru Kenyatta and Deputy Ruto remain the bona fide, de facto and de jure President and Deputy President of the Republic of Kenya. I don't influence their actions as a patriotic Pan African with passion.
FACTS ABOUT THIS MATSANGA:
In 2006 EU, UN AU SADC, EAC, the Government of South Sudan, Uganda Government initiated and sponsored LRA/ GOU peace talks in Juba the current capital of the Republic South Sudan.  As a responsible citizen of the world who loves peace and a Ugandan who saw the misery of my Luo people of Northern Uganda, I agreed to be a go between the UN, EU, AU SADC, EAC, IGAD and other bodies.  As a Leader of LRA Peace Delegation and Chief Negotiator in UN sponsored Juba peace process. I was, have never been  LRA, combatant,  spokesman as these are the words coined by some media in the world and the likes of Makau Mutua to molest a peacemaker  who stands high on the conflict of Northern Uganda.
CONFLICT RESOLUTION MAESTRO AND CHIEF NEGOTIATOR.
I joined the train of UN, EU, and AU as a conflict resolution maestro and Chief negotiator to talk peace to both warring parties to end the carnage in northern Uganda. The same countries that guaranteed the process are the ones that asked me to engage LRA. I was a professional investigative journalist working as a consultant of Sky News in Africa earning of $120,000 PA whose earnings Makau Mutua will never get in his shoddy gay jobs in a low grade "SUNNY" University of USA.  
My contribution is seen today as peace has returned permanently in my country and I am proud to have been associated with this LRA/ GOU peace process. I never was an LRA sponsor because the sponsors were well known by Uganda government and international community. I was a positive critic of President Museveni on the Northern Uganda war and when he agreed to talk peace and that peace returned through negotiations I had reason to be an enemy of President Museveni. I have no political quarrel with President Museveni except for the failure to  pay for all my outstanding  allowances  during the LRA/ GOU peace talks  totalling to USD $282,722.82. I am still pursing it academically until I get it one day. My Luo people in Uganda now live in dignity and the entire Uganda is peaceful.  That is a contribution to mankind. 
DEFENCE OF ZIMBABWE AND PRESIDENT MUGABE
 I intervened in the case of Zimbabwe as a friend of humanity and a Pan African living Kwame Nkrumah's dream to save the country from punitive sanctions—my efforts hutched fruits, things that Makau will need years of sleep to realize in his dreams. Zimbabwe ministers now travel to Europe as result of my efforts by filing a court case against the entire EU in the same European system which forced Baroness Ashton to remove sanctions against over 100 Zimbabweans. Is that not heroism?
Its improper and reeks intellectual masturbation that a whole dean at SUNNY like Makau can contort history in broad daylight like the character José do Castanet in Mia Couth's A girl with a Twisted future twisted his child into death. It means Makau is morphing into Longinus, the Roman soldier who speared Jesus Armpit on the cross to hasten his death by spearing the armpits of the truth and facts to expedite their death. My role in Zimbabwe politics was clear and the British Government knows that I helped to tell them to engage President Mugabe. Britain and EU refused to engage and contain the views of the people of Zimbabwe.  I have no regrets for defending President Mugabe because he was the first man in Africa to show reconciliation to a murder Ian Smith.  I will therefore stand by him up to the end. The likes of Morgan Tsvangirai who friends to Makau Mutua will never get power in Zimbabwe.
KENYA'S ICC EPISODE AND GEORGE SOROS MONEY:
This was the creation of the likes of Makau Mutua. I have lobbied and supported the AU resolution on ICC and  I have always sought  better ways to end conflicts in mama Africa while the woman Makau and the ilk's bid for their masters like George Soros by turning their mouths into WMD(weapons of mass deception). I have no regrets for tackling the ICC (OTP) that framed President Uhuru Kenyatta, Deputy William Ruto, and Arap Sang who are the wrong people in court. Makau Mutua's bosses in Kenya are the ones who should have stood trial for such crimes not the 3 Kenyans. That is why I have voluntarily defended the Kenyan suspects. Makau Mutua cannot show any proof that I have ever been hired by any of the Kenyan suspects to defend them. In any case if they do hire me one day as the cases enter the final lap, I will finish the cases within one week because I tough on strategy.
MAKAU'S RANTS ON PRESIDENT UHURU KENYATTA:  
The world knows that Makau played a role in President Uhuru Kenyatta's woes at the ICC. I am not a liability to Uhuru or Ruto because I am not employed by any of the Kenyan suspects on ICC cases. I am patriotic African brother who wants to save other Africans who need that help. Makau's increasing venom on President Uhuru Kenyatta borders on blackmail: belittling the President into a quid pro quo after failing to "catch his eye like he caught Dr. Raila Odinga's eye". For once I used to think Makau was a very thoughtful person until I bumped into his many articles, where the man sounded like a Dr. Doom quoting cherry-picked articles in the constitution to bamboozle his audience that one Uhuru and Ruto could not contest the Kenyan election. Second the ICC was an ultimate warrior with mother of all panaceas- woe unto those who took this fortune teller serious, like the Baal Prophets none of his prayers have been answered. Maybe he didn't shout loud enough for the Kamba gods to hear.
Even in his false paradise, let Makau appreciate that respect is earned; being a flame throwing opportunist only drowns him more and more into the sea of bitterness and sorrows of woman/man enclaves of insanity. Churning torrents of moth eaten theories and joining fake dots all the time to reach misleading conclusions add little or no value to the African and  national conversation of healing by extension.
MY ACADEMIC CREDENTIALS
 I am not seeking employment from Makau Mutua so as to parade my CV and academic credentials but since Makau Mutua has asked in public space about it let me make it clear. For the last time that my student loan reference number for London Guildhall University from (1993- 2000) is (Ref: 316574014655). In Britain one cannot have a student loan without going to a University and it is crime to fail to pay that same loan. My balance to clear that student loan stands at (USD$15,175.000). Unlike in American Universities where Makau Mutua went and bought his degrees down the 11th or 12th  streets of New York for $300 dollars, in Britain where I have lived for 27 years academic degrees are earned through attendance and had work like I did.
 I went to a reputable University in Great Britain( London Guild Hall University now called Metropolitan University in the centre of civilization)  where forging academic papers in near to impossible.  I studied very hard, passed my exams very well-that is why I am a subject of a wrong woman Professor like Makau Mutua.
For humility they say is the hallmark of intellectual maturity. That is why as a father of well grown up children and not a woman/ man, I would like to put Makau to a dustbin of history. It is the constraint of the cases before the ICC Appeal Chamber 5 that I have limited myself to this REPLY but in future when all cases are finished I will tell the world what Makau did against his own nation Kenya . One should not forget that Makau is CIA mole who works for regime change in Kenya and it is high time Kenyan systems checked on such individuals who benefit from the misery of hapless Kenyans.
If the editor does not publish my right of reply then I will move to Media Council of Kenya to seek redress.

Thanking all of you
I remain
Yours
Dr. David Nyekorach- Matsanga
Chairman/ CEO Africa World Media Ltd.www.africaworldmedia.com
Chairman/ CEO Pan African Forum Ltd.www.panafricanforumltd.com
Chairman/ CEO Cross Border Express Cars Ltd.www.crossbordercarsltd.com
Co-owner- Co-Founder/ CEO The London Evening Post Ltd. www.thelondoneveningpost.com

Dr. David Nyekorach – Matsanga.
Chairman /CEO
Pan African Forum Ltd & Africa world Media Ltd
+44(0)7930901252
+254(0)723312564
Surrey England
africastrategy@hotmail.com
dr.davidmatsanga@yahoo.com