23

03

CONDITIONAL REMOVAL OF ZIMBABWE SANCTIONS IS A DANGER TO PEACE IN SOUTHERN AFRICA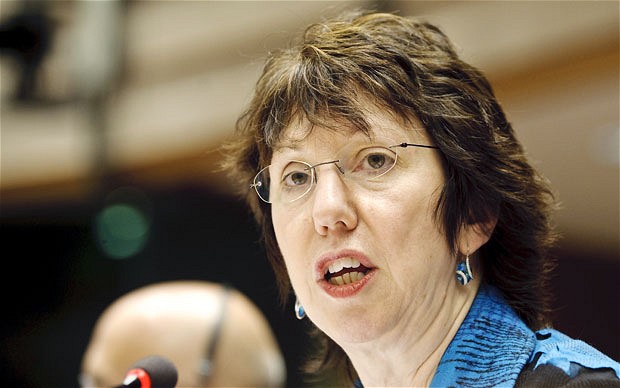 OPEN LETTER
22nd March 2013*
Baroness Catharine Ashton
EU Commissioner for External Affairs 
External services
1046 Brussels
Belgium.

Dear Baroness,
CONDITIONAL REMOVAL OF ZIMBABWE SANCTIONS IS A DANGER TO PEACE IN SOUTHERN AFRICA.
Greetings!
1. Baroness, I refer you to the above subject that I have brought to your attention several times and which leaves a strain on the dialogue avenues that were initiated by some groups in Africa like mine. While we thank the move of removing sanctions on some individuals by the EU as a gesture in the right direction we regret you actions of maintaining 10 names on the new sanction list which will be announced next week.   

2. My lobby for 12 years  has worked to remove obnoxious and draconian sanctions against the people Zimbabwe will continue until I clear all those on the EU list  of sanctions  whether present or dead .  EU needs Zimbabwe now and any obstacles to this noble task of re- engaging President Mugabe must be resisted by civilized humanity in Europe.

3. We want to educate Mr. Geoffrey Van Orden of the European Parliament who has spearheaded this move that exclusion of Mugabe from Zimbabwe politics earns him more admirers.  We must reiterate that the EU has treaded on "international cliff- hanger   politics" that will create more misery for the people of Zimbabwe than helping them at the need like this one.

4. Why have we decided to be on record?  It is because of the behavior of some European countries whose record on regime change in Africa is now clear. The danger posed by leaving these names on the list is huge. These names are drawn from ZANU- PF party by malicious factions of MDC-T and MDC that want to contest in a free and fare election by eliminating credible peace in the coming election. I want to alert you that from my knowledge ZANU- PF will never accept to let their captain remain on the EU sinking ship while the rest of the crew is airlifted to safety in the comfort cities of imperialism.

5. Our organization is aware of the French political under-hand in the refusal of President Mugabe's name removal from the sanction list. This is because they (French) are busy courting other undemocratic avenues of a limited military entry into Zimbabwe just as they have done to Syria.  Lifting sanctions against all his ministers and leaving President Mugabe on the list is tantamount to political suicide and could worsen the already fragile situation in Zimbabwe.

6. Our feeling is not very far from the feeling and opinions of SADC and that of AU on the question of TOTAL REMOVAL of sanctions without conditions.  Those whom you have targeted in ZANU- PF are the same ones who can make things work better for a peaceful election in Zimbabwe.

7. It is regrettable that some nations in EU have insisted on President Mugabe's name remaining on the sanction list. This proves the very point that I have made over 12 years that personal hatred has replaced principles of international relations strategy that creates harmony among nations.   The selection of 10 close allies to President Mugabe for black listing will provoke serious consequences for any new democratic dispensation in Zimbabwe.

8. We have worked on this matter of Zimbabwe for over 12 years and we are not shocked by the mess the EU has put President Mugabe year out and year in on the matter of sanctions. There are three things that cannot be hidden, the Sun, the Moon, and the truth. The last one (the truth) will one day set me free on Zimbabwe situation. EU actions on Zimbabwe could spark a conflict in the region that could spill over to peaceful nation in the region.

9. We have always maintained that engagement and dialogue will resolve the disputes that widened the gulf between the government of Zimbabwe and EU. Despite all these bad maneuvers by a section of "EU traitor countries like France who take from Peter and give to Paul" our hearts are not dampened by peripheral issues created by countries in Europe Union like (France) that are economically dying because of bad foreign policies.

10. Baroness, I am glad that under your stewardship as EU Commissioner for External Affairs   hopes had been renewed in the relationship between Zimbabwe and EU on some issues like the KPC Diamond case which we successfully lobbied.  Our intervention as a Pan – African group is based on passion and sense of patriotism for Africa and has nothing to do with material gains on this issue.

11. We believe that hardened sanctions against the top leadership of Zimbabwe will make, President Mugabe more popular both at home and in Africa.  The reading is on the wall as President Mugabe is the only leader in Southern Africa who has managed to resolve once for all the issues related to land that haunts most governments in Southern African region. The resilient people of Zimbabwe still have respect for the President and his party ZANU- PF.  He will win the coming election with over 65% of the vote and to brush such a popular leader aside is sheer scale of naivety  .

12. We still maintain that sanctions imposed on Zimbabwe are outdated and serve a purpose of isolating European Union activities from one of Africa's resourceful countries that might be taken over by Chinese investors in years to come. There is a reality that in 10 years to come China through its peaceful foreign policies will overtake Europe on how to handle Africa.

13. EU has killed investment opportunities for our industries in Europe and the sanctions on Zimbabwe have killed the creation of more jobs in Europe by imposing archaic and draconian trading regulations against European companies that deal with Zimbabwe.

14. Baroness, sanctions in Africa sanctions hurt masses more than the leadership of any African country they are imposed on.  Sanctions cannot cause regime change in Africa.   The deaths of women and children due to sanctions, the injury on the economy of Zimbabwe, the isolation of the people of Zimbabwe from the rest of the world, all have added to the damage that we see in Zimbabwe today.  

15. These are issues the European Court of Human Rights must answer when making a ruling on our application in the European Court of Justice.

16. Baroness, there are emerging African and world opinions that direct to a fatigue evaluation of all sanctions on the entire people of Zimbabwe. That evaluation must be started now in order for Zimbabwe to redefine its destiny. I have made my case for a blanket removal of all sanctions to you without conditions. The benefits of such a removal are enormous.

17. Baroness, the composition of these names on the sanction list was done by those sharing the same government with President Mugabe today as I write. The current Minister of Finance of Zimbabwe is among those who engineered and composed the list for western nations to target his fellow Zimbabweans. This is one of the few malcontents who have caused trouble for Zimbabwe.  

18. The Electoral process should not be hinged on removal of sanctions which were placed on this nation that has continuously held elections since 1980.  European Union actions on Zimbabwe could trigger a military takeover in Zimbabwe as most of those people that you are targeting shed blood during the repressive regime of Ian Smith which the same Europe supported. This looks like a reminder that Ian Smith is gone but Godfathers in Europe are still in-charge.

19. Baroness, my organization and Zimbabwean friends have taken this route because we feel that our role is to stand up for Africa in times like this.  Meanwhile I pray that the EU will change its position and remove the 10 names on the sanction list because they are importantly needed for a peaceful election in Zimbabwe.   
Hoping to hear from you again in the near future,  
I remain,
Yours truly,

David Nyekorach- Matsanga (PhD)
Pan African Forum Ltd -Chairman/ CEO / Africa World Media Ltd- Chairman / CEO
CC
President Kikaya  Kikwete of Tanzania( SADC)
AU Chairperson  Dr . Nkosazana  Zuma.
President Yoweri Museveni ( EAC)
President Jacob Zuma ( South Africa)