01

03

AU RESOLUTION WAS TIMELY AND A WAKE UP CALL TO ICC ON AFRICAN CASES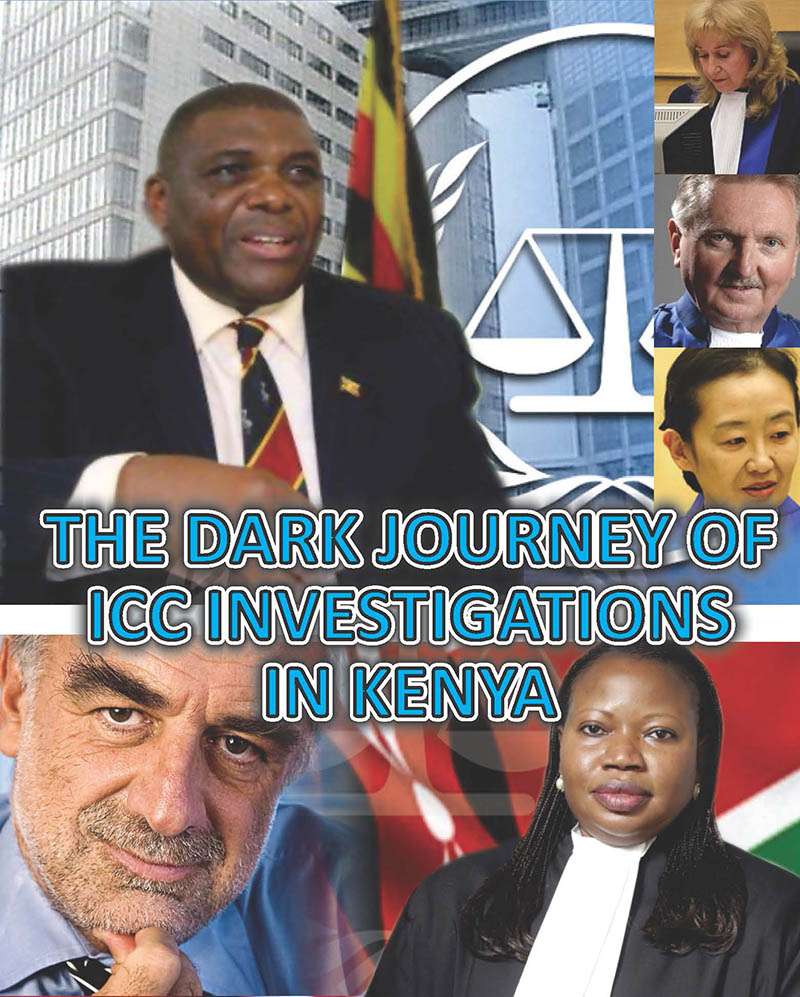 Following the passage of a resolution on ICC by African Union(AU) in Addis Ababa on 27th May 2013 which  was spearheaded by President Museveni and others in Africa, there  has been botched  and senile attempts  by some people in the Kenyan  media , derogatory  and repugnant efforts  by  the Chief Prosecutor  of ICC Fatou Bensouda,   the adolescent and non-reachable  office of ICC outreach worker Ms Maria Kamara and finally  ambiguous civil society or call them"ambiguous evil society of Kenya" to try and confuse the people of Africa and Kenya regarding the AU resolution that will decide the fate of ICC in Africa.
This is the response from  Africa world  Media  Ltd as lobby group that  spearheaded the lobby  at AU and the  passage of the  resolution  in  Addis Ababa on 27TH May  2013.  We shall single out  some unbalanced sentiments  made by some senior people in Kenyan politics, the demoralized  ICC Chief Prcsecutor brief  in New York standard 28th May 2013, and those of Daily nation legal affairs editor article 28th May 2013.
l.  My organization and I have been at the fore front  of investigating  the flawed manner, the corrupt actions of the  then then and present  chief Prosecutors  of  the ICC, the use of political intermediaries in the Kenyan and African cases whlch newspapers in Kenya have not reported to the world.

2.  My organization is in possession and  is editing  a video documentary on the ICC Chief Procecutor Fatou Bensouda which  we shall release to the world in June 2013 detailing her activities as Minister of Justice under the Military Junta of an African dictator whose record on Human Rights is horrible. The video will show how she met key Kenyan opposition and NGOs officials who visited her in one of the African tours and decided the fate of the Kenyan suspects. It is in this meeting that she was convinced to change all charges and evidence in case one and case two of Kenya.

3. My organization has invested heavily on Luis Moreno Ocampo and we are in possession of confidential serious and incriminating video tapes that we  shall again release to the world via Youube on 30th June 2013 that shows how  Luis Moreno Ocampo obtained bribes in cash and transfers to an account in one of the European capitals and several incentives to investigate certain cases including Kenyan cases. The videos show how he mutilated cases of Uganda Kenya, and Libya in return  for bribes and favours of various types including holiday trips for him and family members around the world. This will prove to the world that  our investigations against Ocampo and (OTP) into Kenya cases were real.  We shall table this evidence before the court in Europe.

4. Africa  World  Media  Ltd  is  greatly  honoured  by the  AU resolution  which  enhances our international  lobby  to  bring  to trial  for  perjury, Mr. Louis Moreno Ocampo, Ms Fatou Bensouda, and the Presiding Judge of Pre- trial Chamber 2 in the Kenyan cases. The three officials of ICC connived to fix the Kenyan cases before the ICC and European law is very clear on issues of perjury.

5. We have stood out as the only African organization that have tried to disqualify both the past and present  ICC chief  Prosecutor under  Article  42 of the  Rome statute of 1998.   This is because of their misconduct and we were shocked that newspapers in Kenya did not report such a high profile case because of bias against me.

6. Again, I single handedly defeated the  ICC Chief Prosecutor on witness tampering case of which  I was being  investigated  under  Article  70  of  the  Rome Statute  and many  of  the newspapers in Kenya did not report such victory because they were ashamed of eating their  bad words they had used against me.

7.  The victory  of Kenyan cases is on my side and it looks like God has now helped me further through AU to expose ICC sardonic, uncouth, and prudish and adolescent behavior that  has destroyed a good court and the International Temple of Justice that I helped to create in 1998.

8. We want  to  thank President Museveni who has keenly  followed  all my  efforts  to defend Kenya against ICC blackmail since 2008. The AU actions were timely and will stop a gravy train of dirty  toxins  that  were loaded on the Kenyan cases. The Kenyan cases bear a Hallmark of flawed investigations. The doctored, sexed, cooked and corrupted cases of Kenya that were loaded and injected  with  political amnesia by Dr. Kofi Annan and Luis Moreno  Ocampo must be brought to an end under Article 53 and Article 16 of the Rome statute which are very clear.

9. The entire  "complimentarily status" of the Rome Statute of 1998 was earth scotched by the invoking of Article 15 of the Rome statute through a lone ranger rogue Chief Prosecutor of ICC. Under the influence of Kenyan political opponents of the suspects he divided crime into two parts PNU/ ODM and failed to respect the governing principles of the Rome Statute  of 1998. From that day the investigations in Kenya became a threat to the same peace that ICC intended to bring when such a conflict occurs.

10.  Now Kenya has a vibrant court systems which can handle the cases through a special division of the High Court, which the  ICC can help to train, there  is no need of airlifting the Kenyan President  and his deputy  to stand trial in the Hague when the  world  accepts that the Kenyan judiciary has changed.

11. There is a threat to peace due to the poor investigations that  were conducted and wrong men
were  handed over  to The Hague. It is now clear that envelope contained more names but because of political expediency Luis Moreno Ocampo chose the ones that the Kenyan NGOs and their political masters wanted to go for trial. That enough  warrants the  stoppage of these flawed cases because the then and  present Chief Prosecutors relied on political decisions of Dr. Kofi Annan and the dangerous Waki Report that was made in bad faith  against President Uhuru Kenyatta, Deputy William Ruto and Arap Sang.

12. There are commentaries in the Kenyan Dailies expressed by half-baked commentators  on ICC matters, and especially by those few editors who have been paid by the corrupt  ICC outreach office of Maria Kamara to claim that there is a legal route in the ICC.

13. We believe that there is no legal redress for President Uhuru or other suspects in the present ICC set up. If lawyers for President Uhuru and Deputy William Ruto want more paycheck for a polluted cases it is up to them. My organization want to bring to the notice of the suspects that the cases are already fixed. We would like to inform the Kenyan and African people that the legal route in the ICC died the day James Maina Kabutu (OTP4) corrupted evidence was exposed by me in 2012.

14.  It now evident that ICC prosecutions are determined by the political will of France that pays all the salaries of  all the  judges and workers of  the ICC including  the Chief Prosecutor. The activities of ICC are politically determined  by France that  has spearheaded the  onslaught of taking President Kenyatta and William Ruto to The Hague.

15. We have read the contents of Mr. Albert Muriki in the Daily Nation which is one of the papers that  has haunted  President  Uhuru Kenyatta and Deputy William  Ruto on the ICC saga. We want to state that the contents of such analysis lack mature educational in depth, and has NGO syndrome that has killed and confused the legal fraternity in Kenya.

16. In fact it is sad that  most  Kenyans have sprung up to become experts on ICC and this has saturated the entire  debate of ICC and one fails to see facts from  fiction.  The legal affairs editor  of such a reputable newspaper that  has turned itself into a yellow paper by politically siding with  a morally  bankcrupt Professor Makau Mutua a Sunday Nation columnist to confuse Kenyans who voted in huge numbers that there is no threat of arrest under Article  59  and Article 98 of Rome Statute. The Articles  are merely  on paper in international law  but the forces of darkness operating with ICC want such a thing to happen.

17.  We fully  support President Museveni's position and President Museveni is well  connected with a vibrant  intelligence  system in  Uganda  and the  world.  He said  it from  a serious informed analysis  that  there  plans  laid  down in Netherlands to put  under  house  arrest President Uhuru Kenyatta and Deputy William Ruto once their cases are concurrently heard in The Hague.

18. It is also true that  Chief Prosecutor of the ICC has intentions  to  tell  the  court  that  she will proceed with both cases expeditiously until they end. Whether the cases take one year, 2 years or less the suspects must remain on the soil of where the court is. These are realities that Kenya cannot  afford  to run away from.  If this  is so then  it means the  President  and deputy  will remain in The Hague until the cases are finalized.

19. This is because there is nowhere in the Rome statute where suspects are charged and tried in absentia otherwise Joseph Kony and President Bashir who face similar charges like the Kenyans would be tried in absentia. It requires that the suspects are there in person and during the trial. So Kenyans must know and weigh these consequences of their two high ranlking officiasl  going to The Hague at the same time.  That is where the plot lies!

20. There are some in the Kenyan media and other yellow gutter journalists who have been paid by imperial machines to spin against the AU resolution and water it down. They must know that some of us who are investigative journalists and have in the last two  weeks  been to Netherlands, surely know the secrets and facts about the preparations of a five star Hotel in The Hague where the ICC has arranged to house high profile suspects of Kenya.

21. The Government of Netherlands and is aware of such preparations has been requested by ICC
security section to beef up the operation. Kenyans should not be fooled by paid editors of Daily Nation on this matter.The question that begs answers is:
If there will be no detention of Kenyans when President Uhuru and Deputy William Ruto appear in The Hague for a concurrent trial of their cases why should owners of such a luxurious hotel in The Hague be told not  take outside clients  from  July 2013 until  they clear with state apparatus in Netherlands?   Why? Kenyans should open their eyes and see ahead on this matter and resist any actions that will scuttle the newly elected Presidency.
22.  It is also apparent that those who have floated this idea in Europe (the likes Dr. Kofi Annan, Mr. Salim Leone, Mr. Luis Moreno Ocampo, the Coalition for ICC and other Human Rights groups and some senior opposition politicians in Kenya) want to create a constitutional crisis in Kenya and force another election in Kenya when there is continuous detention of the President and his deputy for over 10 days or so.

23. So President  Museveni was very  right  and  was well  advised on this  matter by  facts and intelligence that is credible and not fiction that Kenyan papers write on daily basis. One thing that we Ugandans do have is frankness that  has made some of be shunned in newsrooms of NTV/ Citizen/ KTN and other media to tell the truth to these same media houses that  have haunted President Uhuru and Deputy Ruto.

24. My organization will take stakes higher in this game in exposing the misgivings of ICC. This will go in history to prove that the OTP did not properly investigate the Kenyan and African cases. I have made it known to the Appeals Chamber 5 of ICC and I have written to ICC President about the matter of investigating Ocampo to no avail.

25.  I want  to  thank all the leaders of 53 AU states in Africa for the good job done to put an in motion a process of that will check and balance the actions of ICC in Africa.
Dr. David Nyekorach – Matsanga.
Chairman /CEO
Pan African Forum Ltd & Africa world Media Ltd
+44(0)7930901252
+254(0)723312564
Surrey England
africastrategy@hotmail.com
dr.davidmatsanga@yahoo.com