27

07

CREDIBILITY OF AU WILL BE DENTED AND FLAWED BY OBASANJO LEADERSHIP OF AU MISSION IN ZIMBABWE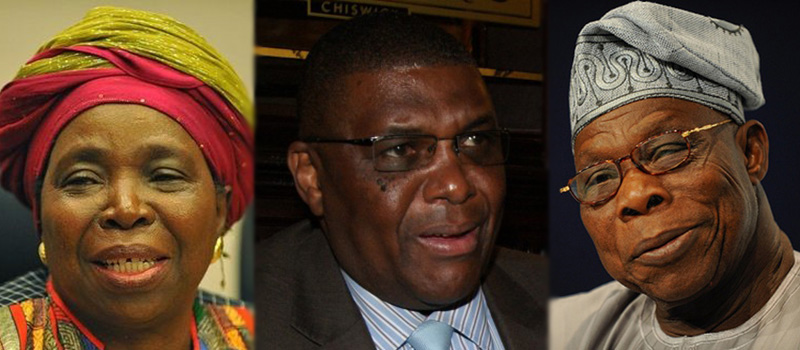 1.   Pan African Forum, wishes to make its stand known to the people of Zimbabwe and entire world  that  AU Chairperson Dr. Nkosazana  Dlamini Zuma, having been notified of   former President  Obasanjo's past   undemocratic  activities  in  Africa and the  terrible record  on his election observation missions that caused credibility deficit   for AU in several of the countries of  Africa  where  he  has  been (Ghana, Togo,  Liberia, Sierra  Leone, Senegal, DRC,  and Commonwealth Troika), the Chairperson has gone ahead to confirm on her visit to Harare on 25th July 2013   that   General Obasanjo will arrive in Zimbabwe on 27th July 2013 Head of AU Observer mission in Zimbabwe.
2.  Pan African Forum respects our African hero President Mugabe and the Government of Zimbabwe's judgment on accepting the former President Obasanjo's choice as the Head of AU Observer mission in Zimbabwe. We  also admire  the  manner  in  which  President  Mugabe respects other  former  leaders  and  other  Presidents in  Africa  who  call for  regime  change against Zimbabwe. But we must state here without fear of contradiction that our stand on Obasanjo is final and informed by the Plethora of intelligence that we have gathered over years on the French threat towards Zimbabwe.
3.  Pan African Forum regrets the shallow outbursts of Morgan Tsvangirai charade of deceit on elections of Zimbabwe. Morgan Tsvangirai whose French knighthood is at the center of French master plan to destroy Zimbabwe atter 2013 elections must give serious explanation of his links with the French regime operations where he is named.
4.   The world must know that Pan Africa Forum has already defeated the likes of Raila Odinga in Kenya who were sponsored by the French strategists for regime change in Africa. It is such type of outbursts (of Tsvangirai) that we have alerted AU about. The attack on AU chairperson stand on Zimbabwe elections by MDC- T is what we have feared will be the mode in weeks after 31st July 2013 Elections.
5.   Pan African Forum sees this as a death route of principles of democracy and accountability in the AU. The AU values of transparency and accountability in Africa seem to be going down the dark alley of incompetence and compromise.  ECOWAS's report on Obasanjo is damning. It cannot be neglected by AU.  Pan African Forum does not engage in gossip and witch- hunts. We have provided serious evidence from previous AU failed missions of Obasanjo. The evidence speaks volumes for itself.
6.   The credibility of the leadership of AU will be seriously dented with this move of allowing a dented person to oversee a tightly contested election like that of Zimbabwe. Democratic Africa stands  at  crossroads given  that  an  Army  man  who  overthrew  a   democratically  elected government in Nigeria finds his way in a new democratic space of Africa. The past cannot not be forgotten when apology has not been made. Thousands of Nigerians died in these military coups of Obasanjo. Where is accountability?
7.   Pan African Forum respects the decision of Dr. Nkosazana Dlamini Zuma whom we hold with high esteem as a mother, as an intellectual, and as a Pan African by birth and deed, but we want to put on record that Obasanjo is "good businessman" but not "a democrat" to head an observer mission of such a sensitive election of Zimbabwe in 2013.  There are other good democratic Africans who could do better than Obasanjo.
8.    Pan African Forum wants to thank millions and millions of people in the world who have listened to our live interviews, supported us on this Obasanjo saga, and read our documentation on Obasanjo blood trails in Africa. We want thank Voice of America (VOA), E-news of South Africa, the New Zimbabwe .com, The London Evening Post, and other news agencies that carried our story across the waves of the world.
9.   Pan African Forum has documents and serious intelligence that President Obasanjo whose record and double standards are known has close links with imperial machine of the western world that torments Africa Union and Zimbabwe in particular. This is regrettable. President Obasanjo's French connections that are well known and his business links with Mr. Strive Masiyiwa (the owner of Econet) are a dent to Zimbabwe elections.
10. There is serious intelligence and satellite evidence with us to prove that the French have rolled out a digital machinery to dismember Zimbabwe through VotewatchZ63. Org). There is also .evidence that Strive Masiyiwa is an opposition bankroller and a favoured heir apparent of Zimbabwe opposition leadership who could take over as favored elite of the western nation. This has worried some of us who have voluntarily defended Zimbabwe for over 13 years.
11. Pan Africa Forum knows that the scheme by the USA, Britain, France and other Western nations is to create a Syrian type of crisis in Zimbabwe. The French military intervention strategy is now complete as Obasanjo has always wanted President Mugabe overthrown.  Does anyone in Zimbabwe remember Obasanjo's negative role during the struggle of independence in Zimbabwe? What did he say as Commonwealth eminent person on Zimbabwe?
12. President Obasanjo has on several occasions directly called for regime change in Zimbabwe. It is surprising that "internal traitor  clique against Mugabe "that has been working and coordinating Zimbabwe's   activities  with  Mr. Strive  Masiyiwa  to  overturn  President Mugabe  has blindly allowed Obasanjo on flimsy reason that "he will play ball". If Obasanjo could take all diamonds of Charles Taylor and then hand him over to the ICC what is different. Here?  Those advocating for this route are silent regime changers in Zimbabwe.
13. Pan African Forum does not want history to include us in such crude adventures that will see Zimbabwe dismembered through underhand deals and utterances of Obasanjo. We don't want history to judge us harshly as an organization when Obasanjo messes in Zimbabwe. If Obasanjo delivers a good election report for Zimbabweans we shall together celebrate. But we shall not be cowed down to stop pointing out dangerous triggers that could plunge the country into an uprising.
14. The sad happenings in Libya are still fresh in our minds. Does someone in AU remember what happened when AU started sending wrong people to mediate with Gadhafi?  We want our hands to be clean on Zimbabwe in African perspective and we have no regrets for exposing President Obasanjo. Those who are not sinners can cast the first stone on our statement on Obasanjo.
15.  On a comforting note we want the world to know that ZANU- PF will win this election. But there will be a credibility gap created by Obasanjo's image where his report will be rejected by the already biased international community and MDC-T who have bankrupt ideas on Zimbabwe vision.  Already the moribund MDC traitor Morgan Tsvangirai has fired warning shots about AU role in Zimbabwe.
16. This type of politics is what the French play in Africa. When demonstrators fill the streets of Harare and elsewhere  in  Zimbabwe as planned by political strategists in Western world President Obasanjo will present himself as mediator  of Zimbabwe crisis. Western nations will call for mediation and that is what will happen to my dear Zimbabwe.  If we are wrong time will tell.
17. Finally Pan African Forum would like to thank President Mugabe for steering a good election campaign and we also thank the people of Zimbabwe for a peaceful election campaign. For us who have fought voluntarily against sanctions on   Zimbabwe we want to appeal to all Zimbabwean stake holders to use this opportunity  to deliver a patriotic victory  for their people that will remove the nation from the claws of imperialism that has  stalked this great country for more than 13 years.
God Bless Zimbabwe!
Dr. David Nyekorach – Matsanga.
Chairman /CEO
Pan African Forum Ltd & Africa world Media Ltd
+44(0)7930901252
+254(0)723312564
Surrey England
africastrategy@hotmail.com
dr.davidmatsanga@yahoo.com